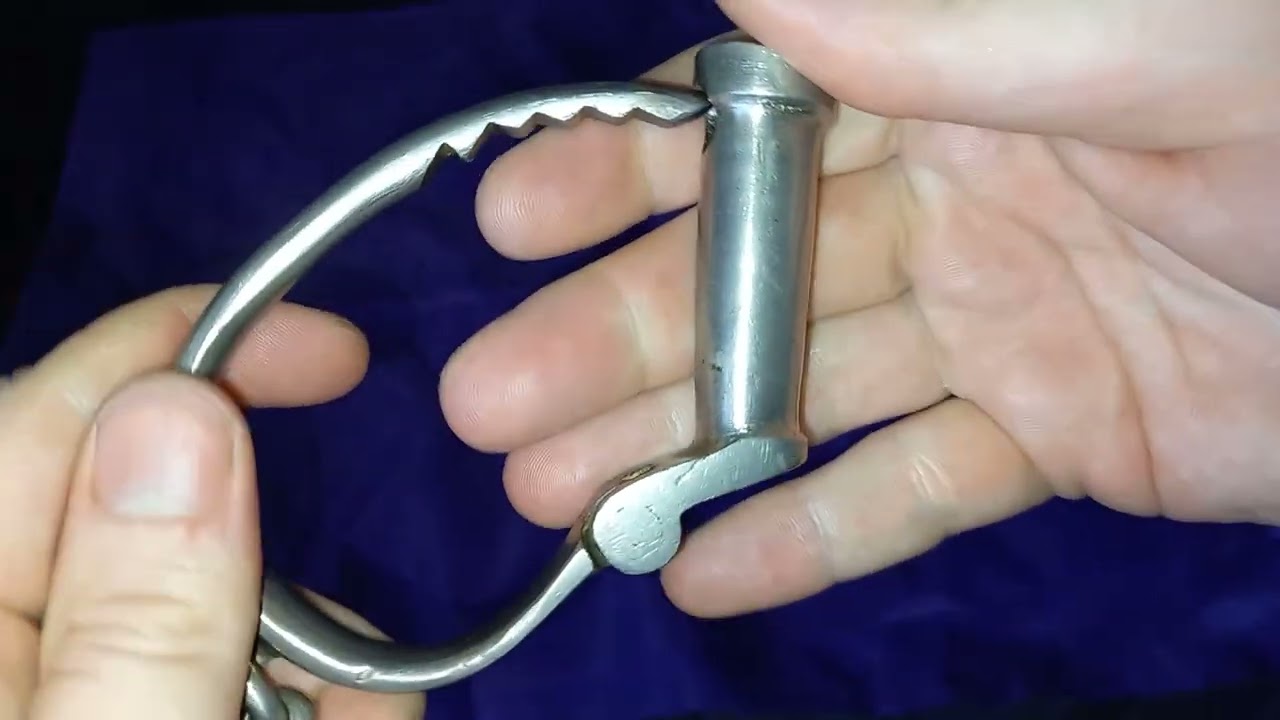 This is an early pair of Hiatt 115 Steel Adjustable Darby Handcuffs from the 1950s. The classic Victorian design Darby handcuff only has 1 size. It is what it is. Either you have a small pair, a medium size pair or a large pair, but whatever you have on you is the only wrist size you can handcuff. These adjustable ones were to offer a police officer the ability to have all sizes of handcuffs in one handcuff.
The early models were made from steel, while later ones were made of cheap pot metal. The key I have is a pot metal key from a later pair.
These were the precursor to the modern style of swing-through handcuffs used by British police. Swing-through cuffs had been invented many years before, but because of costs, weren't adopted as a style in Britain until 1960 when Hiatt made their 1960 pattern.
This pair I have, has at some time been modified by a previous owner who was either into magic or escaping handcuffs. They have been gimmicked. When I received them, all but the last 2 teeth had been gimmicked, meaning you can get out of them by a sharp and hard yank outwards unless they were closed to the 2 smallest sizes. This technique of leaving the last 2 teeth is so they can be put on a small assistant and they can be tested as being secure, but when placed on the larger wrists of the magician, can be escaped without a key.
Since they were already gimmicked anyway, I decided to file 1 more tooth on both bracelets so that my wrist size has no ability to get locked in them, as the one key I have is a bad quality pot metal key that if damaged, could be annoying.
I was hoping they would be a normal pair of Hiatt 115. They were sold as "Good working condition" which depending on how you look at it, is true. They do "work" but they are not a secure pair of handcuffs as they had been intended to be when they were manufactured. So I am a bit disappointed. But they will do as a placeholder pair of handcuffs which help illustrate the journey through time of British police handcuff evolution.
They are relatively comfortable and when handcuffed behind your back, they are very restrictive that would make it difficult for someone to access their keyring or things from their pockets. Your hands are side by side, horizontally.
Enjoy.