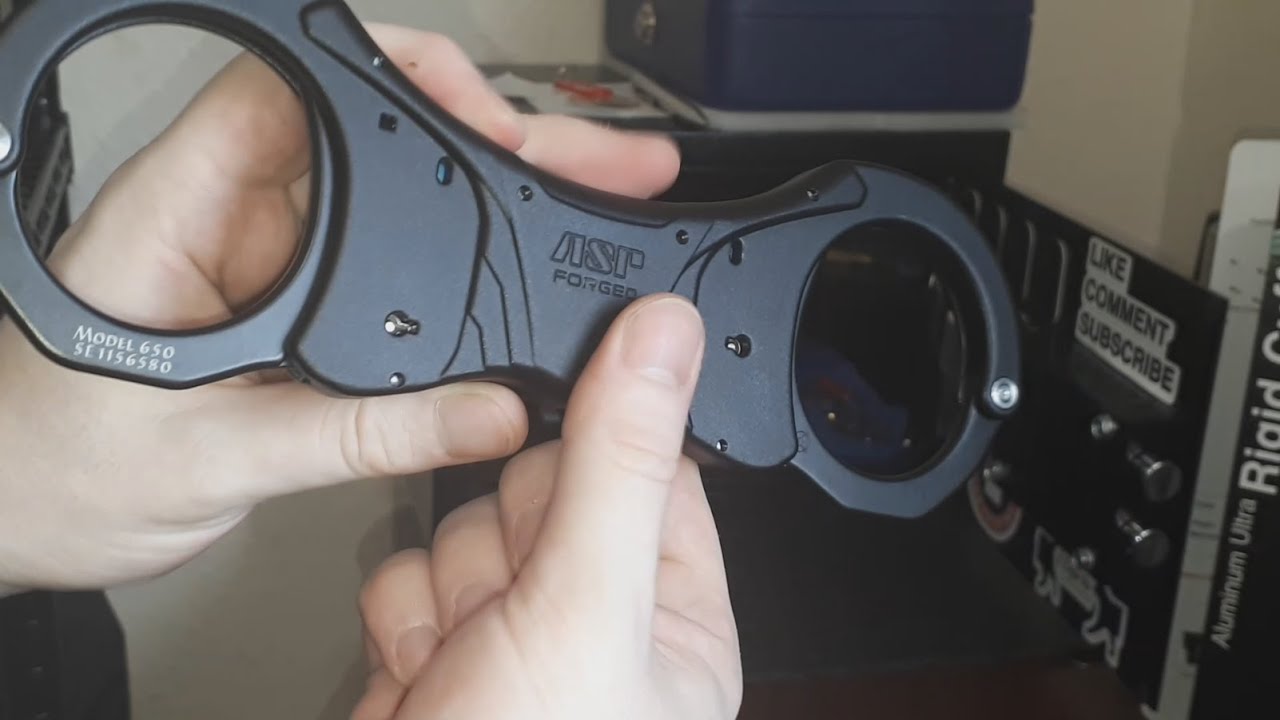 These are the rigid ASP Ultra Cuff model 650 handcuffs.
These are what they call forged aluminum or aluminium, which means they no longer have polymer overmold models which used to bend out of shape and annoy police officers and possibly create risks since their cuffs were non-functional if they got bent. The kind of aluminium they are made from is 7075-T6, which is as strong as mild steel without the weight. These are VERY strong handcuffs. They are pretty lightweight also, a good chunk lighter than TCH model 840.
This model is the aluminium bow model, indicated by it being all black. ASP handcuffs are designed to minimise injury to the wearer. They have all smooth edges and corners. They accommodate a wider range of wrist sizes than regular American handcuffs, though TCH Superior size handcuffs open a bit larger and close a bit smaller. But ASP is doing a good job with this. One thing to note is that these handcuff bracelets are slightly further distance from each other than TCH model 840, meaning a tiny bit less comfortable in the front, more comfortable in the back when palms are out and would be more UNcomfortable in a rear stack because one arm is forced higher up and one lower down.
As usual, keyholes on both sides, double lock can be engaged via the window or the key it's self. Which brings me to my big issue with this model of handcuffs. The double locking pin on the back of their handcuff keys is not long enough to properly work in their own handcuffs!! When I try and double lock via the window, it makes the clack sound like it has double locked, but that clack sound is the double lock pin on the key slipping off the plastic window double locker and hitting the metal. So you think they are double locked but they are NOT which in my mind is a BIG design oversight. If you have other keys like Zak Tool which have taller double locking pins on them, then you are able to properly use the window method to double lock, else you will have to insert your key and turn the opposite direction to engage the double lock. I cannot believe they have overlooked this, it astronomically boggles my mind. EDIT: ASP got back to me, they are aware of the issue and are designing new keys. If it pans out, they said they will send me a replacement key(s). But since I am in the UK, we shall see if they will send it/them to me.
That said, all in all I love these handcuffs. SO smooth, lovely, strong and high security due to me buying the blue pawl version. I would highly recommend them to US law enforcement if they want better control over subjects and more restriction of movement. Most comfortable positions are a stack in the front (as shown on the video) or would be a rear palms-facing-out position (not shown)
I LOVE these cuffs, but it is a shame about their design not taking into consideration the short length of their keys double locking pins. Remember with the 2-pawl blue double lock versions, normal handcuff keys do NOT work in them... You have to modify your keys with a split to allow them to work.
Enjoy!
#handcuffs