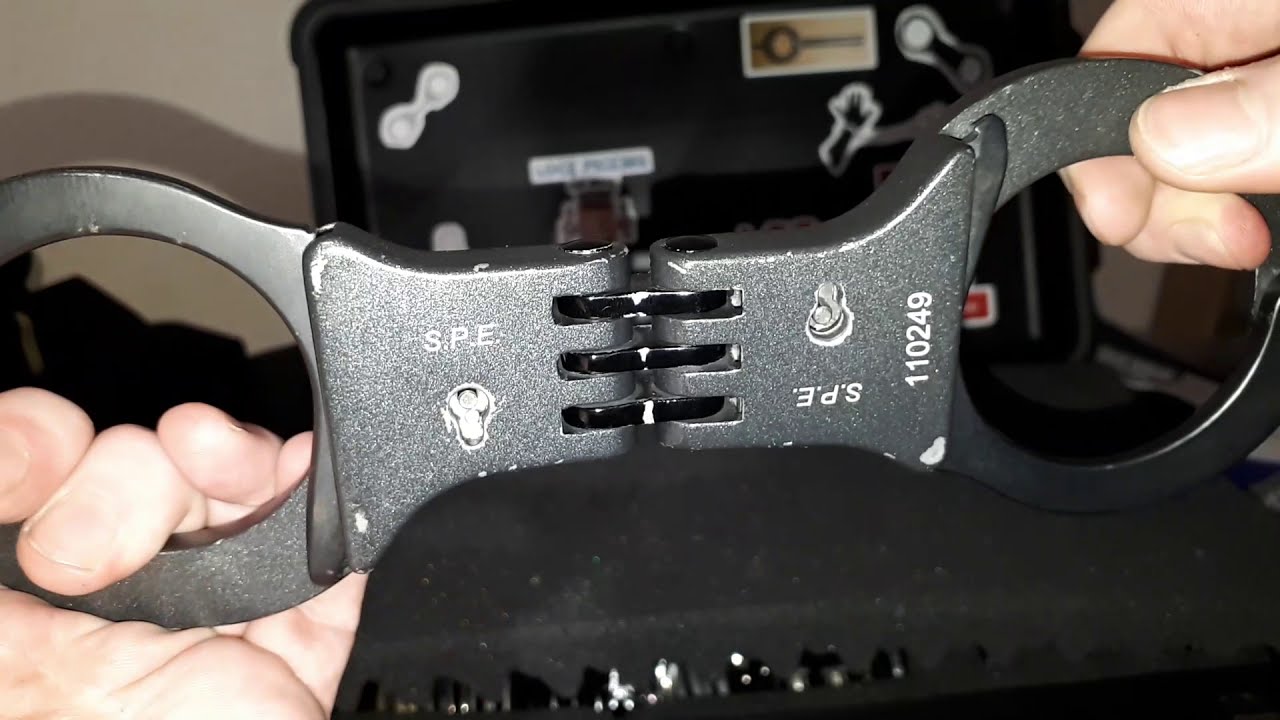 These are S.P.E or SPE handcuffs that I have seen marketed as transport handcuffs. They are made by a company called Sain Professional Equipment hence the SPE abbreviation. They are a company that have been in business since the mid 1990's and have manufactured handcuffs and other equipment for Dutch SWAT teams, Dutch Ministry Of Defence and Dutch Ministry of Justice. Dutch means The Netherlands.
They are functionally exact in every way based on what I have seen from other people and images of the more widely known LIPS handcuffs which are usually shown in a silvery grey colour and are used (or have been, not sure if they are still used but I think they are) by the Dutch police. Literally the only difference seems to be the branding printed/engraved on them, that's it.
These use a special key which are not that easy to come by online. They have a proper 3 or 4 lever lock, similar to Chubb mortice locks. Usually the handcuffs come with 2 keys when purchased brand new, one long key and a short key. My pair are a used pair and came with 1 short key. I have since made myself a couple additional keys. There are some keys on eBay and if I am successful at making more I may list them on eBay at a more sane price than the ones someone else has listed.
These handcuffs restrict movement very well and allow a decent amount of movement within the cuff, as seen in the video where I can spin my hands around in them in a similar fashion as I can with TCH "superior" sized handcuffs. They do not have a regular double strand where the rotating arm swings through, the double strand has been replaced by a very thick single strand, which is very odd looking but works well. Very robust...
They have no ditch in the rotating arm which usually is added on modern handcuffs to prevent a VERY strong person pulling outward and disengaging the teeth. This seems to be because the body metal is significantly thicker and wider than most modern handcuffs, which my guess would mean it has MUCH more strength than "typical" handcuffs.
They fit a similar wrist capacity as TCH 840 police handcuffs which come in the Superior size and they close decently small too. They are VERY comfortable.
They have 2 methods of double locking, either via the nice levers on the back or you can use the key in the opposite direction to double lock.
They are decently secure compared to most of the more modern police handcuffs in use, though they can be picked by someone with the right tool and knowledge, BUT it is hard to pick them while you are wearing them. I can pick them relatively easily but I have never managed to do it while wearing them.
They are on eBay UK now. There are cheaper, more worn models for about £60 I think, models like mine which look in a bit better condition for £70 and there's a few brand new ones for about £150 or more.